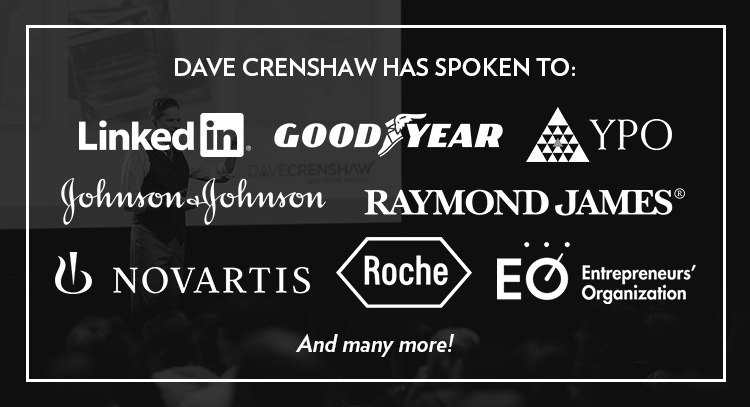 A Speech From Dave Is…
An interactive experience with an unforgettable message
Your audience will not just be listening during Dave's speeches; they'll be doing, as well. Engaged audiences lead to information retention and lasting results.
Big ideas delivered in a personal way
Dave is a dynamic speaker who personalizes his message. Your group will feel as though Dave is speaking directly to their personal motivations, fears and desires.
Actionable advice leaders implement immediately
As the author of three bestselling books and an experienced business coach, Dave knows the importance of offering practical, useful information. Your group will make lifelong changes that will improve workplace culture.
Learning through laughter
Audiences are most receptive to big ideas when they're having fun! Dave's speeches are bursting with humor and wit. Your group will not only learn during Dave's presentation, but enjoy themselves as well.
A model of integrity and professionalism
Dave consistently beats and meets deadlines. You can depend on Dave to honor your requests and arrive early at your event.
Topics
Check Availability
DAVE WILL BLOW YOUR GROUP AWAY... JUST ASK CHUCK NORRIS
A lot of people talk about Dave Crenshaw, including Time Magazine, FastCompany, USA Today, and the BBC. Those are big names, but Dave couldn't help but laugh when he found himself quoted by one of the world's most iconic actors. …Chuck Norris.
While he's shy to admit it, it's one of Dave's proudest moments as a professional speaker:
Chuck Norris quoted Dave in The Official Chuck Norris Fact Book.
If Dave can impress the mighty Chuck, then Dave will absolutely blow your audience clear across the conference room. He'll deliver roundhouse kicks to lost productivity and drive a pickup truck of leadership through the ground surface of your company.

DAVE WILL TEACH YOUR GROUP HOW TO TURN OFF BUSINESS CHAOS AND GET MORE DONE
Chaos affects every person at every level of business. There's always more work, and never enough time. This chaos takes its toll on friends, families, coworkers, and health.
Many businesspeople simply don't have the time to free up time. Many know they need help, but aren't sure where to turn. Fortunately, Dave's got your back.
Whether you're hosting an event for thousands of companies or just your own, Dave is your man. He's reached hundreds of thousands through his online courses and bestselling books.
As a speaker, Dave will energize his audience to be more productive and motivate them to become better leaders. Dave's knowledge, wit, and intellectual firepower are the secret weapons to professional GROWTH!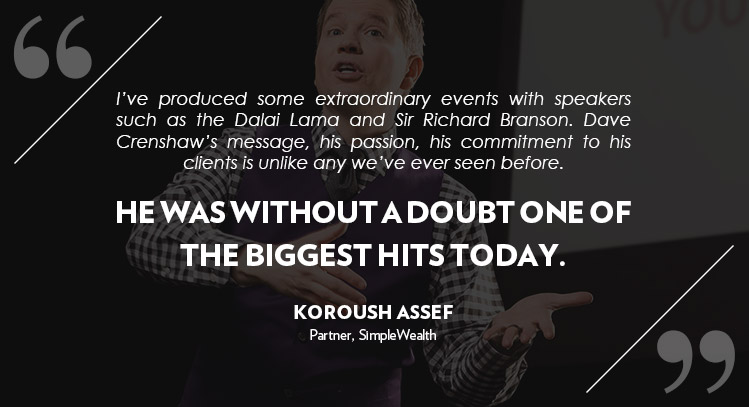 Business leaders the world over describe Dave's presentations as life-changing because he has shown them and their staff how to make themselves invaluable in their markets. The worldwide press has taken notice. Dave's ideas are that powerful.
Topics
Check Availability
SPOILER ALERT…DAVE WILL WOW YOUR CROWD
Need a speaker to excite your audience? Want to learn more about effective leadership, seamless productivity, personal balance, and move beyond the old clichés of "taking care of business"? Dave delivers!
Want your staff to become more productive with their jobs? Want them to uphold the values of your company and take pride in their work? Hire Dave to show them how they can make themselves invaluable to your company.
So if you're ready for Dave to wow you, your guests and staff, check Dave's availability for your event now!
Topics
Book Dave for a leadership and productivity keynote speech on the following topics:
The Myth of Multitasking™

Increase Your Value with the Power of Hidden Time!

Time Management Fundamentals

The Myth of Multitasking™

Increase Your Value with the Power of Hidden Time!

What could you do with a 20% increase in productivity? Dave will show you and your company how to find extra time at work without having to work weekends. Dave will show you how to find precious minutes and hours - that adds up to extra DAYS! - hiding right under your noses. Not only that, Dave will show you how to make that time COUNT with his truly unique brand of wit and wisdom.

Includes content from Dave's LinkedIn Learning course:
Time Management Fundamentals

Lengths of Speeches Available:

Finding Focus in a World of Chaos

Take Control, Regain Balance, and Have More Fun!

Time Management Fundamentals & Balancing Work and Life

Finding Focus in a World of Chaos

Take Control, Regain Balance, and Have More Fun!

Feel like everything's moving too fast? You're not alone. But there is a solution, and it's surprisingly simple. In an engaging keynote speech that is equal parts practical and motivational, Dave digs deep into his humorous and touching experiences of being off-the-charts ADHD and his work coaching successful leaders worldwide. Dave will help you regain control and improve the quality of your work, all while feeling more balance and happiness in your life and career!

Includes content from Dave's LinkedIn Learning course:
Time Management Fundamentals & Balancing Work and Life

Lengths of Speeches Available:

The Result

The Proven, Practical Formula for Getting What You Want

Delivering Results Effectively

The Result

The Proven, Practical Formula for Getting What You Want

Is there a big-impact, game-changing result that you've always wanted but have been unable to achieve? The world's top performers all follow a focused process to reach their goals—even if they don't realize it! In this interactive presentation, Dave Crenshaw will unveil the secret, simple, and potent formula of The Result. Audience members will gain a practical tool that they can utilize—and also train others to use—to consistently obtain success. The Result is powerful, engaging, and immediately applicable.

Includes content from Dave's LinkedIn Learning course:
Delivering Results Effectively

Lengths of Speeches Available:

The Power of Having Fun

How Meaningful Breaks Help you Get More Done...and Feel Fantastic!

The Power of Having Fun

How Meaningful Breaks Help you Get More Done...and Feel Fantastic!

What if you could be more productive than you are now, simply by having more fun? The Power of Having Fun will guide you through Crenshaw's revolutionary system to grow your business and advance your career...all while feeling fantastic! Discover the science and power of essential, rejuvenating moments that will replenish your mental, emotional, and social reserves on your journey toward greater productivity.

Lengths of Speeches Available:

The Focused Business®

How Entrepreneurs Can Triumph Over Chaos!

The Focused Business®

How Entrepreneurs Can Triumph Over Chaos!

In this fresh, creative take on entrepreneurship, Dave confronts Chaos Inc., the prime culprit of business failure. He then arms you with the superhero utility belt you need to rise above the daily mayhem and craft a focused business strategy. Through real-world examples and a healthy dose of wit, you'll discover how to conquer the seven Agents of Chaos, stay focused, and maximize profit. For any business seeking to create a solid foundation for lasting growth, The Focused Business is the fun, memorable, and absolutely invaluable experience.

Lengths of Speeches Available:
Working with Dave Crenshaw and his team was stress-free. He catered his presentation to our needs. Then the day of the meeting came and WOW—he blew us out of the water! This wasn't your usual zoom presentation. Dave's energy and passion jumped through the screen. He involved the audience and answered their questions. Numerous people have pulled me aside to tell me how transformational his presentation was. Dave's message applies to every organization, no matter your size or industry.
Dave spoke to a group of 450+ professionals at our annual conference. His Myth of Multitasking™ session was incredibly well received and gave actionable information to take back and use. Dave was engaging and entertaining in his excellent delivery of material. I'd definitely recommend Dave and his message.
You simply can't go wrong by having Dave Crenshaw present at your meeting. He's professional. He's personable. He engages the audience. His material is absolutely outstanding. We will have him back.
I hired Dave Crenshaw to address three hundred entrepreneurs from across the globe on The Myth of Multitasking™. Dave has a simple and yet important message which he delivers in a fun, light and entertaining way. I would not hesitate to re-hire or recommend him to others.
Dave's presentation was wonderful and so relevant for what we're experiencing today. I would have him back in a heartbeat!
Dave did a phenomenal job … high integrity, tremendous content. If you're considering hiring Dave for an event I highly, highly recommend it. He went above and beyond.
I've produced some extraordinary events with speakers such as the Dalai Lama and Sir Richard Branson. Dave Crenshaw's message, his passion, his commitment to his clients is unlike any we've ever seen before. He was without a doubt one of the biggest hits today.
Our members loved Dave's presentation so much we brought him back for a second time the following year! This year we were heard his newest message on how scheduling fun into your day can actually make you more productive. Our conference attendees loved the perspective Dave was able to bring and working with him and his team was a breeze. He's a professional from start to finish. I would recommend Dave for your next conference or meeting.
Dave's topic and presentation are incredibly on point! I'm amazed at his unique delivery where he smartly personifies the chaotic villains that pull at our ability to be focused superheroes. I'm not surprised he was our highest rated event of the year and confident that he will continue to bring value to all individuals/chapters that have the opportunity to hear his sound methodology.
Weeks after [the event]having heard the overwhelmingly positive feedback of so many attendees, we can say this with certainty: we made the right choice. … you successfully connected with each person and encouraged them to apply your advice to their unique business challenges. More than a typical corporate keynote presentation, you really took us on a journey. Your dynamic presentation was interactive, entertaining, and allowed…attendees to walk away with tangible lessons.
The Kansas City Chapter of Entrepreneurial Organization recently hired David Crenshaw to speak at a Learning Event. We had a packed room thrilled with David's Presentation/Workshop on The Myth of Multitasking™. His humorous approach to an important subject kept the room thoroughly entertained while imparting great wisdom. We would highly recommend David Crenshaw to others.
I had Dave Crenshaw come to one of my events and speak to about four hundred of my members. Since that first event I've hired Dave again to come and do another session for my people because they just can't get enough of him. Book him before someone else does.
Dave took the time to meet with us before the event to learn more about our company. This led an incredibly successful presentation. Dave was energetic, enthusiastic, and engaged the audience. He created a great energy to start our day during the conference.
We received so much great feedback from Dave's keynote speech! Attendees used phrases like "life-changing", "extremely valuable", and "informative and practical."
Dave Crenshaw addressed our group on the topic of The Focused Business: How Entrepreneurs Can Triumph Over Chaos. The presentation was amazing. The nuggets of information that I took away from this session were worth the price of admission and then some. I would see him again in a heartbeat.
Our meeting attendee survey proved him to be the top rated speaker … Dave's presentation was inter-active, provided great solutions and really made people think about the positive changes they could make.
Dave Crenshaw recently spoke at EO Utah's Business Convention. He did an excellent job presenting "The Myth of Multitasking™" to the group. He was well-versed, enthusiastic, energetic, and came prepared. Dave spoke on a topic often overlooked in the workplace, and I think it shed some light on all of us business owners. I would highly recommend his services.
Dave is an incredibly multi talented, dynamic and compelling individual. His take on topics such as multitasking was 'invaluable'! I invited Dave to share his expertise at our annual Behind Every Leader event, and needless to say, I hope he will be a part of our stellar lineup for years to come. His breadth of knowledge and abundant skill set has been utilized by a global audience of CEO's and Admin professionals.